A Weber County woman diagnosed with breast cancer last year started a charity to bring love and hope to others who are also dealing with difficult circumstances in their lives. (interstid, Shutterstock)
Estimated read time: 4-5 minutes
PLEASANT VIEW — A Weber County woman diagnosed with breast cancer last year recently started a charity to help others dealing with difficult circumstances in their lives.
RaQuett Stroud was diagnosed in June 2021 and has since undergone surgery and radiation.
A nutritionist for 27 years, Stroud has used a combination of holistic healing and medical intervention on her cancer journey. Her most recent mammogram was clean, and she goes in every few months to check on her progression, since she opted out of doing drug therapy and instead focuses on following a ketogenic diet, doing yoga and meditation, spending time in nature and energy therapy.
Deciding what to do for cancer treatment was not an easy choice. Stroud's husband is very medically minded, and she is very holistic, but she wanted to be smart about everything. She studied both medical publications and the holistic side of things, and said it was like she was trying to get a doctorate degree in cancer in two days.
She felt overwhelmed and conflicted.
Stroud is a devout member of The Church of Jesus Christ of Latter-day Saints and felt that God was prompting her to read in the book of Ether, one of the sections of the Book of Mormon. As she was reading, she felt God's counsel to Ether was like assuring her that he would tell her exactly what she needed to do medically. As she continued to read, she felt God communicate to her, "Hey listen, I am the healer … it's not chemo, it's not radiation, it's not herbs … you decide what you want to do, and I will sanctify it for you."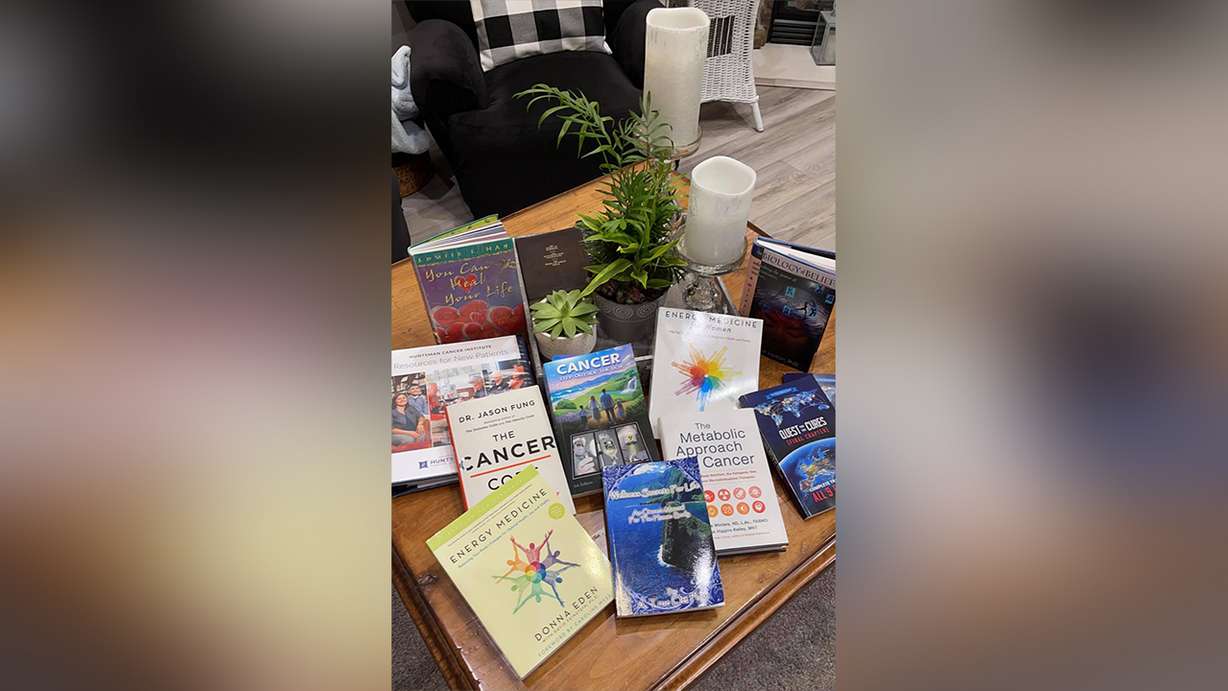 Some of the books RaQuett Stroud read to prepare herself to fight a breast cancer diagnosis. (Photo: RaQuett Stroud)
When Stroud got cancer, she figured she would die from it, but she wasn't fearful. But then she started to contemplate what it was that God wanted her to do with her life.
"My biggest fear in life is not death. My biggest fear in life is not fulfilling my divine mission," she said.
She just needed to figure out what that divine mission was. One day she was thinking about how a bunch of her friends brought her a basket of gifts the night before her breast cancer surgery.
"And I just was thinking about how healing it is to have people care about you," Stroud said.
She and her husband have both had experiences where the service of others during their personal trials has helped them in the healing process, and Stroud felt inspired to be that way for others, too.
On Sept. 27, she delivered a care basket to a neighbor who had just had open heart-surgery. The basket included a Minky Couture blanket, a Stanley cup, and "petit gâteaus," or in other words, cookies that her husband bakes. She named this charitable project the Juniper Tree, inspired by the prophet Elijah and his Bible story in 1 Kings.
"And I thought, 'Oh, my gosh! When you're under the juniper tree you're getting your butt kicked — like, that's angel boot camp,'" Stroud said. "You know, it's like you become more compassionate so you can pay that forward when you get on your feet."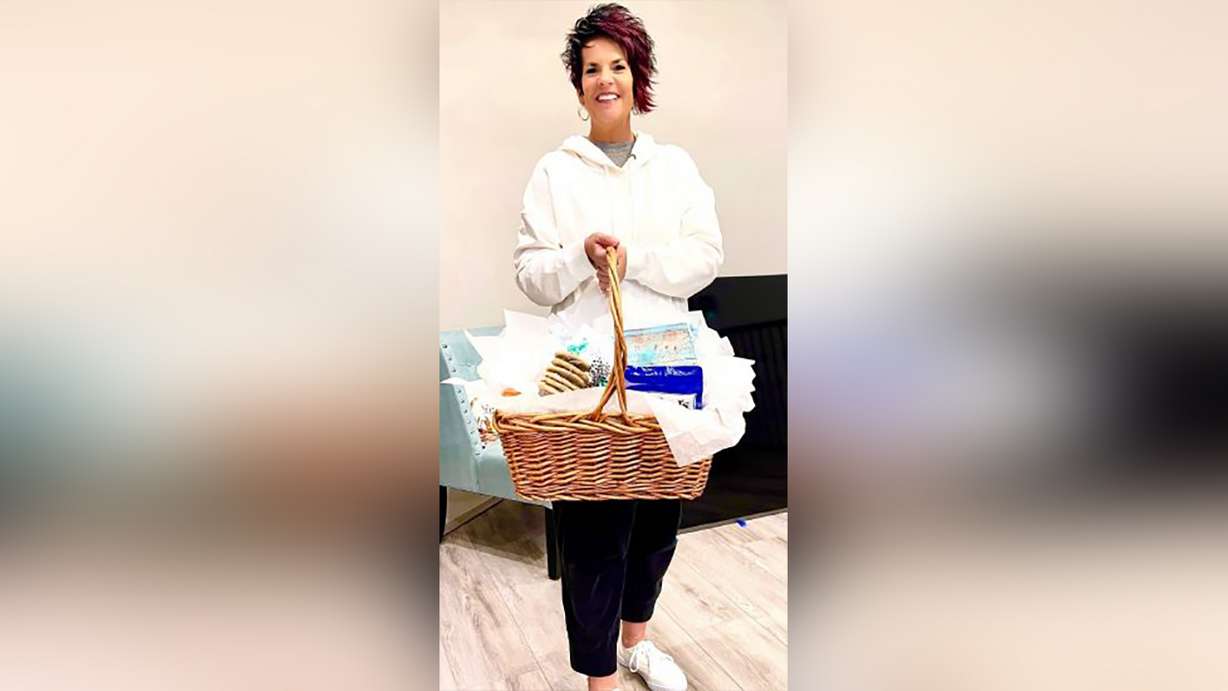 RaQuett Stroud, who founded the Juniper Tree to provide gift baskets like the one she's holding here, to others fighting their own trials in life. (Photo: RaQuett Stroud)
Nader Mikhail, the first recipient of a Juniper Tree basket, said it warmed his heart when Stroud brought him a basket. It proved to him that somebody cared about him besides his own family.
"I was only home a couple of days and wondering whether or not I will still live or not, and it just warmed my heart to see the care and compassion of having somebody, especially a neighbor, to come and present me with something that was so thoughtful," Mikhail said.
The fine quality of the basket's contents touched Mikhail's heart because it made him think about how somebody must care about him a lot to do that for him.
"It's nice to see wonderful people like that around the world that just bring cheer without any ulterior motive, just because."
Not long after Stroud was at his house delivering the basket, Mikhail saw a post of hers on Facebook about a surgery she had to remove cancer from her arm. He said she hadn't even mentioned that when she stopped by, and he felt it was a remarkable thing for her to care for somebody else while she was going through her own trials. That then inspired him to want to serve others.
Stroud recently delivered another basket to a neighbor who had back surgery and quickly assembled several more.
It's nice to see wonderful people like that around the world that just bring cheer without any ulterior motive, just because.
–Nader Mikhail
"(Their struggle) can be cancer-related, but I didn't want to just limit it to just cancer," Stroud said.
Becky Knight, Stroud's neighbor who had the back surgery, said Stroud's kindness boosted her spirits.
For the previous five months, Knight could hardly do anything without severe pain. Back surgery, thankfully, made it almost immediately better. A couple of weeks after her surgery, she felt good enough, physically, that she felt too guilty to ask anyone for help. So, it really boosted her morale when Stroud showed up with a care basket.
"It was just really fun to have something that was just quite a 'wow factor,'" Knight said.
Stroud received donations to start the Juniper Tree from users of her 16-week program called "16 Stones," which she said is "a holistic approach to healing the body, mind, heart and soul," according to her Facebook page.
×
Photos
Most recent Uplifting stories
Meg Christensen is an avid reader, writer and language snob. She received a bachelor's degree in communication with an emphasis in journalism in 2014 from Brigham Young University-Idaho. Meg is passionate about sharing inspiring stories in Utah, where she lives with her husband and two kids.
More stories you may be interested in